At an altitude of 1800m in the Alps mountains near Grenoble, the remote Sanctuary of La Salette surrounded by sloping meadows is the perfect environment to find inner peace.
History
In 1846, the Blessed Virgin Mary appeared to two young shepherds, Mélanie Calvat, 15, and Maximin Giraud, 11, at the exact spot where the basilica in now erected. At the time, the area was very remote with pastures and wilderness as far as the eye could see. Our Lady appeared to them in tears, sharing her concerns for the people, urging them to rekindle their faith through prayer.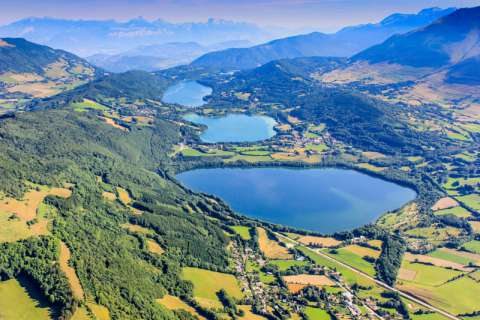 Cultural Heritage
Six years after the apparition, in 1852, the first stone of the basilica was laid. It is accessible via the Route Napoléon, the famous road the emperor took on his way back from exile on the island of Elba to Paris to bring down the monarchy. A hotel complex has also been built on the site to welcome people for spiritual retreats.
Message and Pilgrimage
The remoteness of the site and the sheer beauty of the mountains resonate deeply with both believers and non-Christians alike. 175 years after the message was first heard by these two young shepherds, the sanctuary of Notre-Dame de la Salette attracts 200,000 people every year. They come to take a step back and recharge their batteries in the most beautiful of surroundings. Believers gather also to find light, rekindle their faith, confess their doubts and mistakes and pray.
Sightseeing
Underground Mining Museum
A visit to the tunnels of an ancient mine where coal has been mined since Middle-Ages, 40km south of Grenoble.
The suspension bridges at Monteynard
Not for the faint-hearted, these high suspension bridges are part of a spectacular 12.5 km trek. Boat rides on the lake below available in season.
Hiking in the Parc National des Ecrins
A National Park with breathtaking landscapes, protected flora and fauna, 4000m above sea level at its highest point.
The Route Napoléon
Follow in history's footsteps. As the disgraced emperor makes his way back from exile to overthrow the king and return to rule France. A route renowned for Napoléon's visit to Corps, where he stayed and the meadow of the encounter in Laffrey, where the royalist army joined forces with him.
Outdoor leisure activities
All sorts of activities to feel good, breathe in and relax. Hiking, cycling, horse-riding…Which ever you choose, the scenery is simply spectacular. Many lakes and rivers also allow the opportunity of canoeing, boating or even wake boarding.
Events
July
Trail des Passerelles
A week-long trail-running event with distances from 4 to 65 km with around 5,000 participants.